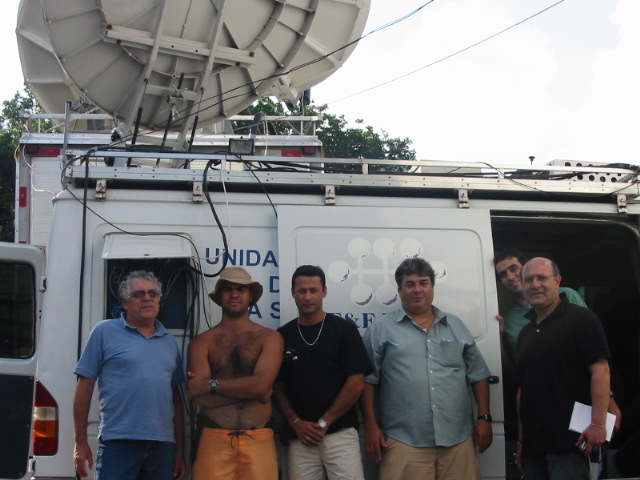 Our Mission

F&F Work is a video and audio production services company leader in video and audio transmission by satellite in Brazil. Doing business since 1990, F&F Work offers high quality equipment and expert professionals for the transmission of live events and the playout of journalistic material for information agencies, using both mobile (DSNG's) and fixed transmission units.

F&F Work team is leaded by Engineer Francisco Cavalcanti, with 25 years of experience designing solutions, installing and operating TV plants for the largest broadcasting companies in Brazil. The team includes experienced professionals who worked previously for large TV companies and are well acquainted with the dynamics of live broadcasting.
10 DSNG´s (C-band) equiped for SDTV and HDTV
2 Flyaways (C and Ku band)
Teleport with antennas for several satellites, with resources and facilities for turnarounds, uplinks, playouts, downlinks, recording and editing.
Two studios available, with air conditioning, lighting grid, generator and facilities for uplinks and downlinks.
Configuration of the DSNG Ku Band
Antenna Prodelin Vertex 1,80m
RF Switch
HPA CPI 400 Watts
Up - Converter Miteq
Encoder Power VU / Tandberg / NTT9100
IRD Tandberg
Frame Syncronizer
HDTV Matrix
Monitor Sony 20" HDTV
Rasterizer Tektronix / Leader / Videotek
Audio Patch ADC
Video Patch HDTV
No-Break 6,5 KVA Powerware
Generator 6,5 KVA
2 kits of multicables with 4 Audio and 2 Video (50 m each)
2 kits of AC Power cables (50 m each)
Color Bar Generator / 1 Khz Generator
Spectrum Analyzer

Configuration of the DSNG C Band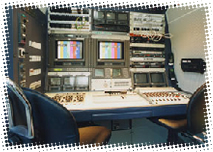 Antena Vertex 2,40m
RF Switch
HPA 400 Watts CPI / MCL / Wavestream
Up – Converters Miteq / Radyne
Encoders Power VU / Tandberg / NTT9100
IRD Tandberg
Frame Syncronizer
HDTV Matrix
Monitores 20" HDTV
Rasterizer Tektronix / Leader / Videotek
Audio Patch ADC
Video Patch HDTV
No-Break 6,5 KVA Powerware
Generator 6,5 KVA
2 Kit of multicables with 4 Audio and 2 Video (50 m each)
2 Kit of AC Power cables (50 m each)
Color Bar Generator / 1 Khz Generator
Spectrum Analyzer